Stevensville Shallow Aquifer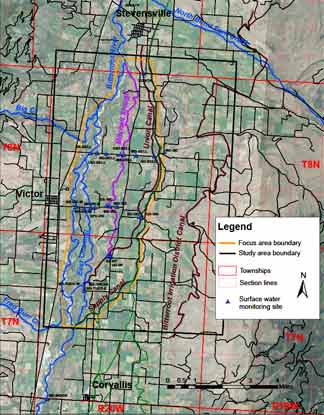 Background and Purpose
The Stevensville Shallow Aquifer Investigation area, located in the Bitterroot Valley, will address concerns raised by irrigators and regulators about the expense and practicality of maintaining current diversion structures, stream channels, and canals. The key diversion work involves annual maintenance of the diversion and channel that takes water from the Bitterroot River to the East Channel just upstream of Tucker Crossing. The East Channel in turn services numerous headgates for canals, including the Tucker Headgate that supplies water to multiple, large ditches and the upper end of the Mitchell Slough.
Project Scope
The study will focus on the area lying between the Union Ditch and the main channel of the Bitterroot River beginning at the headgate and extending north (downstream) near the town of Stevensville:
Irrigation requirements supplemented by groundwater may provide a more reliable source of irrigation water, particularly during droughts, and leave more surface water in the streams during periods when low flows are detrimental to fish and wildlife.
This investigation will provide information and groundwater models that can used to evaluate how the system will respond to changes in diversions and potential groundwater extraction.
Project Duration: December 2011 to June 2015
GWIP Personnel Assigned:
Kirk Waren – Team Leader/ Hydrogeologist/Groundwater Modeler
406.496.4866


KWaren@mtech.edu
Todd Myse – Hydrogeologist
406.496.4838


tmyse@mtech.edu
Dean Snyder – Hydrogeologist
406.496.4882


Dsnyder@mtech.edu
Patrick Haley – Student Assistant
Project Factsheet (pdf file)
Project Updates:
Presentations:
Project Reports: (none yet available)
Project Data available here:
http://mbmggwic.mtech.edu/sqlserver/v11/menus/menuProject.asp?mygroup= GWIP&myroot=BWIPST&ord=1&
---