Ground Water Assessment Program — GWAP

The Ground Water Assessment Program was established by the Montana Legislature (85-2-901 et seq.) in 1991 to improve the understanding of Montana's groundwater resources by collecting, interpreting, and disseminating essential groundwater information. This information is vital for making science-based management decisions.
There are three program components:
1.  Groundwater Monitoring – to produce and maintain long-term water-level and water-quality records,
2. Groundwater Characterization – to systematically assess and document the hydrogeology and quality of the state's major aquifers,
3. Groundwater Information Center (GWIC) database – to make groundwater information widely available.
An interagency Steering Committee selects study areas, coordinates groundwater research among state, federal, and local government units, and oversees Assessment Program progress.
Tracking Montana's Groundwater
The Ground Water Monitoring Program collects quarterly water-level measurements from 900 strategically located wells across the state.
Provides a direct measure of the health of Montana aquifers.
Tracks how aquifers respond to seasonal, climatic, developmental, or land-use factors.
Mapping Montana's Aquifers
The Characterization Program maps and assesses aquifers within specific areas as prioritized by the Ground Water Assessment Steering Committee.
To date, more than 8,000 wells have been visited and about 3,000 groundwater samples have been collected. These data have been used to compile 64 maps and reports that describe aquifer productivity, groundwater flow systems, and groundwater quality.
Storing and delivering Montana's Groundwater Information
The Ground Water Information Center (GWIC) is Montana's groundwater information repository.
The web site (http://mbmggwic.mtech.edu/) provides online access to water-well logs, hydrographs, maps of groundwater flow systems, and water quality reports describing groundwater conditions across the state, as well as a variety of field, chemical, and physical data.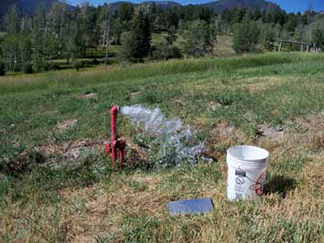 GWIC by the Numbers
More than 31,000 registered users
About 43,800 queries each month
Information on 251,700 wells and boreholes
Scanned images for 230,210 well log documents
Results from 87,041 water-quality analyses for 18,051 sites
26.4 million water-level measurements