large marshmallow
peppermint candy
toothpick
small saucepan
½ cup of chocolate chips
wax paper
Cut a small slit in the marshmallow and stick the peppermint in the middle. Put the marshmallow on the toothpick. Melt the chips in a saucepan over a very low heat, stirring them so they don't burn. Dip the marshmallow in the melted chips completely coating it. Place on wax paper to cool.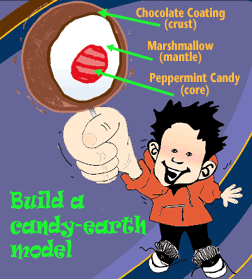 You've just made a mini earth! And to take a quick trip to the center of your earth, just take a bite— in the name of science of course.
Layer by Layer
The outer layer (chocolate) is the earth's crust. Just as with the real earth, it was formed from hot melted material that cooled down and hardened.
The soft, gooey middle layer (marshmallow) is the earth's mantle. It's about 1,800 miles thick, or about the distance you'd go if you drove halfway across the U.S. It's made of magma.
When you strike the candy in the middle, you've hit the center of the earth, called the core. Scientists belieive that the earth's core is a solid kernel of metal surrounded by a layer of liquid metal. The core is just a bit thicker than the mantle and about 9,000°F— almost as hot as the surface of the sun.