Volcanoes are commonly divided into three basic types, although not all fit neatly into one of these categories. These are shield volcanoes, composite cones, and calderas.
Shield volcanoes are low and rounded, shaped like a warrior's shield. They get this shape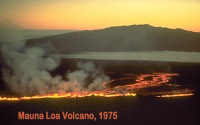 because the lavas that form them are relatively hot and fluid compared to other lavas. Because the lavas flow easily, they do not pile up to form steep-sided cones, but instead may flow for miles or tens of miles before they cool. Although these volcanoes produce some ash and coarser materials, lavas usually dominate. Any volcano is dangerous, but shield volcanoes are generally the least dangerous.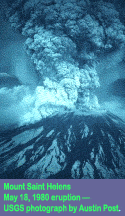 Composite cones are some of the most spectacular and famous volcanoes, for example
Mt. Vesuvius
web cam link
, Mt. Rainier, or
Mt. St. Helens
web cam link
(which was our last big eruption in the United States). The lavas that form composite cones are not as hot or as fluid as the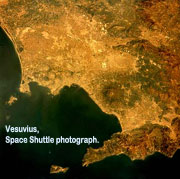 lavas that form shield volcanoes. Therefore, they tend to pile up and make the classic, and beautiful, volcanic cone with steep sides rather than spread out for many miles.
These volcanoes can be very explosive, and therefore dangerous. They are much less predictable than shield volcanoes. Even though Mt. St. Helens was being monitored very carefully prior to its eruption in 1980, the way it erupted was a surprise, and dozens of people were killed. Another hazard associated with composite cones is landslides (most commonly mudflows). The steep sides of the volcanic cone combined with lots of fairly loose volcanic ash and debris created by explosive eruptions can create massive mudflows when saturated with water. These mudflows may travel down canyons at tens of miles per hour, overwhelming everything in their path. Large mudflows sometimes kill thousands of people where towns have been built in their path.
Volcano Informaiton Sites
Calderas are the champions of volcanoes, and are generally the least-recognized. Yellowstone National Park owes its spectacular geysers, steaming fumaroles, and hot springs to a caldera-for
ming eruption that happened about 600,000 years ago. If you visit Yellowstone, it does not look like a volcano. That's because it is so big (the caldera is about 25 miles by 45 miles across), and it did not form a big volcanic cone like Mt. Rainier.
In these highly explosive volcanoes the magma has a high resistance to flow, and also contains a large amount of gases (mostly steam). As the magma nears the earth's surface, the pressure from the overlying rocks is no longer sufficient to hold the gases inside the magma. As a result, the gases literally blow the magma apart, creating great volumes of volcanic ash and coarser debris. This material forms very hot, dense clouds that move along the earth's surface at speeds that may exceed 100 miles per hour. It was a cloud of this type that did much of the damage when St. Helens erupted in 1980.
Imagine taking a bottle of soda pop and shaking it up as you hold your thumb over the top of the bottle. When you remove your thumb, the insides of the bottle comes foaming out, spurting into the air and flowing down the side of the bottle. This is similar to what happens in an explosive volcanic eruption. In fact, so much magma is blown out as ash that the overlying crust collapses, leaving a hole at the surface that may be over 10 miles across and a mile or more deep. This hole is the caldera. In large calderas this hole commonly fills with the volcanic ash being erupted.
Many calderas have formed in the geologic past, but we have never witnessed a large caldera-forming eruption since man first began writing down history. We probably don't want to! The large eruptions would be capable of altering the earth's climate for several years, and the ash erupted could destroy human habitation over an area that could easily cover several states