---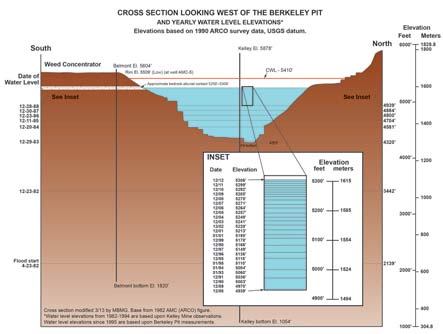 Berkeley Pit Facts

Pit opened — 1955

Material mined — Approximately 1 billion tons

Dimensions — 1.5 miles east/west by 1 mile north/south in diameter by approximately 1,780 feet deep from north face

Mining suspended — 1982

Pit lake depth July 2013 — 1047 feet deep containing 42.5 billion gallons of water (pH <3.0)

Inflow of water into the Pit — Approximately 1,800 gallons per minute, 2.55 million gallons per day (2005 average)

---
Butte, Montana stands at the headwaters of the Clark Fork River and has been a center of extensive underground mining since about the 1870s. Open-pit mining began at the Berkeley Pit in 1955 and continued at the Continental Pit until its closure in June 2000. As part of the underground mining activities, ground-water levels had to be continually lowered as mining went deeper. When underground mining finally ended (1975), the workings included over 49 miles of vertical shafts and over 5,600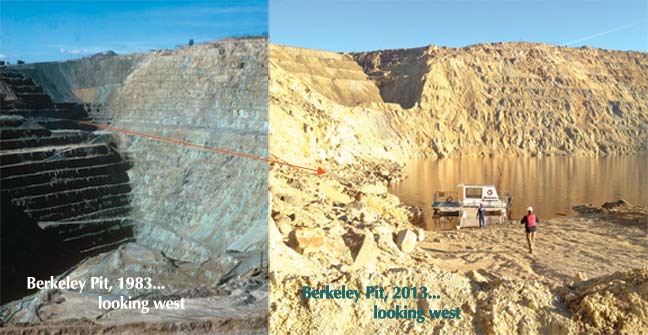 miles of horizontal workways. The Anaconda Company estimated there were over 10,000 miles of workings when all other passages were included. As early as 1901, groundwater encountered in Anaconda Copper Mining Company properties was drained to a common mine level for pumping to the surface. Water drainage was through interconnected stopes, drifts, or diamond-drill drainage holes that were used to transport water to the central pump stations. By the 1910s, as many as 28 mines were dewatered this way. The pumped mine water contained sufficient quantities of dissolved copper sulfate that it was directed to precipitation plants for copper recovery.
The Berkeley Pit, an open-pit copper mine, was dewatered through the underground mine dewatering system. The Atlantic Richfield Company (ARCO) bought the Anaconda Company in 1977 and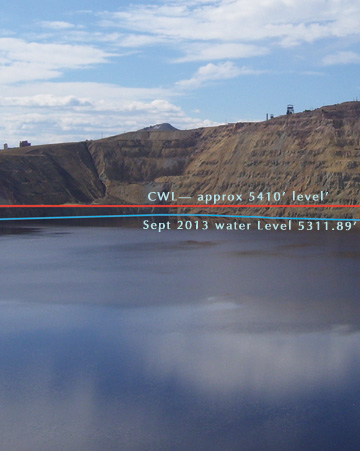 continued to operate the underground pumping system until April 1982, when the decision was made to suspend mining in the Berkeley Pit. The pump station, located on the 3,900 level (3,600 feet below ground surface) of the Kelley Mine, was shut down, and ground-water levels began to rise immediately. Levels had risen more than 1,300 feet by the end of 1982 and 3,180 feet by the end of 2012. The maximum elevation (5,410 feet) that water levels will be allowed to reach in the underground workings and Berkeley Pit has been established by the U.S. Environmental Protection Agency (EPA) and the Montana Department of Environmental Quality (DEQ).
The Butte underground mines and the Berkeley Pit are part of a Federal Superfund Site. A long-term monitoring program was established to ensure that the Berkeley Pit remains the sink, or terminal pit, for bedrock groundwater entering and filling the historic mine workings. This closed system would preclude mine-water discharge to nearby aquifers and surface waters.
To date, the Butte Mine-Flooding monitoring network maintained by the Montana Bureau of Mines and Geology (MBMG), Montana Resources (MR), and ARCO consists of:
70 ground-water monitoring sites (wells and mine shafts), 35 of which are equipped with continuous water-level recorders;
two surface-water gauging stations;
a database that contains over 2,000 complete water-quality analyses that were collected from surface-water, groundwater, and mine-shaft locations;
and 30 years of monitoring data, i.e., water levels and flow.
The water in the Berkeley Pit is highly acidic and high in concentrations of arsenic, copper, cadmium, cobalt, iron, manganese, zinc, and sulfate, plus other inorganic constituents. Water-quality samples are collected semi-annually at selected locations. Water quality in the underground mines was very acidic and high in metals concentrations when flooding began; however, as water levels have risen, pH has increased and metals concentrations have decreased.
Flooding of open-pit mines is ongoing at numerous abandoned mines worldwide. The water in individual pits ranges from highly acidic and containing high concentrations of heavy metals, to moderately alkaline with little or no water-quality contamination. The deep water of the pit lake—the hypolimnion—is separated from the shallow water—the epilimnion—by a chemocline. A chemocline is a zone of rapid chemical and physical change; in the Berkelely Pit Lake, the chemocline is between 35 and 50 feet below the lake surface. The hypolimnion is characterized by pH of 2.5; temperature of 4.5°C; specific conductance of 8,600 µS; redox of 630 mV; and turbidity of 5 NTU. Dissolved-metal concentrations in the hypolimnion include Cu, 190 mg/L, and Zn, 620 mg/L. The epilimnion is characterized by a pH of 2.5; temperature of 0°C in winter (ice forms on the surface) to 25°C in summer; specific conductance of 7,900 µS; redox of 670 mV; and turbidity of 30 NTU. Dissolved-metal concentrations in the epilimnion include Cu, 140 mg/L, and Zn, 540 mg/L. Iron(II):Iron(III) ratio in the hypolimnion is 2.5, and in the epilimnion, 0.36.
To better understand the water chemistry and its changes in these pits, an understanding of the groundwater flow system is necessary. The Butte mines and Berkeley Pit are unique with respect to other flooding open pits because of the large historic underground mine operations interconnected with the Berkeley Pit.
---
Butte Mine-Flooding Monitoring Summary
Current Conditions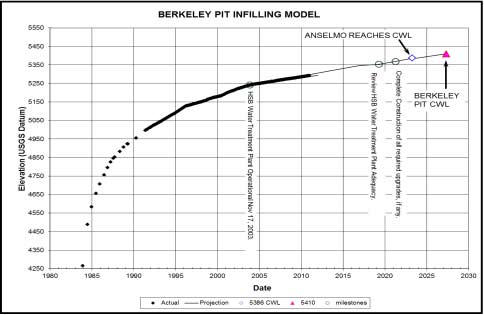 — Berkeley Pit water level the 1st of July, 2013, was at elevation 5,310, 100 feet below the critical water level

— 2012 Berkeley Pit infilling model predicts water level will reach action level at Anselmo Mine compliance point in July 2023

— 2012 groundwater flow into pit, 2.46 mgd

Berkeley PIT CWL Projections, based on Anselmo Mine Water-levels (July 2023)



| | | | | |
| --- | --- | --- | --- | --- |
| Click on images for PDF File | | | | |
— Butte Mine Flooding Monitoring East Camp System — March 2013
— 1994 – September, EPA/DEQ issue Record of Decision (ROD) for Butte Mine-Flooding Operable Unit.

— 1996 – April, MR and ARCO divert Horseshoe Bend (HSB) drainage water away from Berkeley Pit to slow filling rate, per ROD.

— 2000 – July, MR suspends mining operations due to high energy costs, HSB water allowed to flow back into pit, increasing pit filling rate.

— 2002 – March, USEPA and Montana Department of Environmental Quality (MDEQ) enter into a Consent Decree with BP/ARCO and the Montana Resources Group (known as the Settling Defendants) for settlement of past and future costs for this site.

— 2002 – Fall, SUEPA and MDEQ issue order for Settling Defendants to begin design of water treatment plant for HSB water. Settling Defendants issue contract and begin construction of treatment plant.

— 2003 – November, MR resumes mining operations.

— 2003 – November 17, HSB water treatment plant comes online, slowing pit filling rate.
— Montana Resources (MR) suspension of mining operations in the Continental Pit (June 30, 2000) continued through mid-November 2003 when mining resumed. This suspension has allowed water from the Horseshoe Bend Drainage to once again flow unchecked into the Berkeley Pit. Since April 1996 MR has been using this water in their mining operation, keeping it out of the Pit.

— The average flow rate from July 2000 through November 2003 was 1,820 gpm. This resulted in an additional 3.35 billion gallons of water entering the Berkeley Pit. This input approximately doubled the monthly filling rate.

— Depth to water as measured in the Kelley Mine shaft in June 2013 is 584 feet, which is an elevation of 5,322 feet.

— The East Camp System bedrock water level is 30 to 320 feet below the approximate bedrock-alluvial contact, which varies from an elevation of 5,259 to 5,550 feet on the east side of the Pit.

— Water levels in the East Camp Mine/bedrock system rose between 5 and 7 feet in 2012.

— Water levels in the West Camp Mine System rose 6 to 7 feet during 2012. West Camp mine water levels were controlled by pumping at the West Camp pumping well. Over 223 acre-feet of water was pumped during 2012.

— Since the cessation of pumping in the underground mine workings by ARCO on April 23, 1982, water levels have risen over 3,180 feet in the East Camp Mine/bedrock system and over 235 feet in the West Camp Mine/bedrock system.

— The water in the Berkeley Pit is over 900 feet deep.

— The Horseshoe Bend Drainage surface-water diversion implemented in April 1996 was successful in keeping up to 3,000 gallons per minute of surface water from flowing into the Berkeley Pit. Note this diversion was discontinued June 30, 2000, allowing this water to flow into the Pit. However, following the completion of the water treatment plant, this water is no longer entering the pit.

— Water quality in the Berkeley Pit changes with depth. Copper varies from 178 ppm to 187 ppm while arsenic concentrations vary from 0.21 ppm to 2.00 ppm from 3 feet to 200 feet deep.
Summary of Record of Decision (ROD) Butte Mine-Flooding Operable Unit
The Butte Mine-Flooding Operable Unit (OU) is one of four OUs within the Butte Mining district (BMD) and consists of approximately 23 square miles. The OU is divided into two systems: 1) East Camp/Berkeley Pit, and 2) West Camp. Other OUs in the BMD are the Butte Priority Soils, Silver Bow Creek/Streamside Tailings, and Non-Priority Soils.
Major features of the OU are 1) underground mine workings, 2) Berkeley Pit, and 3) alluvial and bedrock aquifers contributing flow to the system.
Berkeley Pit is the most prominent feature of the OU; it is 1,780 feet deep and occupies 675 acres. It is approximately 1½ miles across, East to West, and one mile across, North to South.
Record of Decision specifies the following:
Permanent control and treatment of 1,700 gpm (2.4 mgd) of Horseshoe Bend drainage water, or other appropriate source.
Treatment of surface water; it can be incorporated into current mining operations, or treated for discharge.
24 months prior to projected MR mine closure, or when the water level in the pit system reaches an elevation** of 5,260 feet, a focused review of treatment technologies will be conducted.
Upon suspension of mining, all contaminated surface-water flows shall be captured and treated. Alternative inflows will be considered, but must treat a minimum of 1,700 gpm (2.4 mgd). All uncontaminated surface waters will be diverted around East Camp/Berkeley Pit system.
Water levels in the East Camp/Berkeley Pit system will not be allowed to exceed the established Safe Water Level (SWL) of 5,410 feet; while water levels in the West Camp System will not be allowed to exceed 5,435 feet. The water level in the East Camp will be kept below that of the West Camp.
Within eight years of approaching the SWL, design of final water-treatment plant shall begin, with construction completed four years prior to the projected date for water to reach SWL. This will allow for a shake-down period, for optimizing plant operations.
Long-term, ground-water and surface-water monitoring program will be implemented.
Establishment of a community education and information dissemination program.
---
*Note See September 29, 1994 Record of Decision for complete description of selected remedy. Conditions are those described in ROD

** Elevation datum is USGS
---