Coal Bed Methane
Coalbed methane (CBM), or coalbed gas, is a form of natural gas extracted from coalbeds. In recent decades it has become an important source of energy for the United States.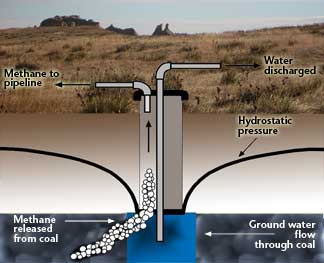 CBM is being produced in the Powder and Tongue River watersheds in southeastern Montana by removing groundwater and managing it for disposal. The impact of extracting CBM must be identified during regulatory decision making. State and federal government-funded studies on the effects to groundwater and surface-water resources are ongoing in the Powder River Basin of Montana.
Data are held by several agencies, including the MBMG and USGS. These data provide a unified and comprehensive hydrologic database of the Montana portion of CBM production. Regulators from Wyoming, Montana, the Federal government, and Indian tribes require data and hydrologic interpretations of these data to make decisions concerning coalbed-methane development and water-quality protection issues. Private citizens need to be kept informed about technical issues, and have a stake in water-quality determinations. Interpretations of data held in this database are published annually and all reports are available on this website through the Publication Online Catalog. These reports represent our current knowledge about groundwater and surface-water systems in the Powder River Basin.
CBM Data (click here and create a login for access to 3D, the Digital Data Delivery system for the MBMG)
---
The MBMG operates the Montana Powder River Regional Coalbed Methane Groundwater monitoring network of springs and wells. Data for this program plus site-specific research such as coalbed-methane infiltration pond studies can be viewed online, or downloaded from GWIC. To access these data sign in to Coal Database for the bureau.