Download our 2013 Screensaver of typical and
stunning Montana scenes!!!
(Windows only—12.7 Mb—Cllck on .exe link to install.)
Notification of New Publications
and Services
If you would like to be notified of new publications and services that the Bureau offers, send us your email address and we'll send you our latest update!!
-->
---
GWOF 22
Nitrate in the Ground Water and Surface Water of the Summit Valley near Butte, Montana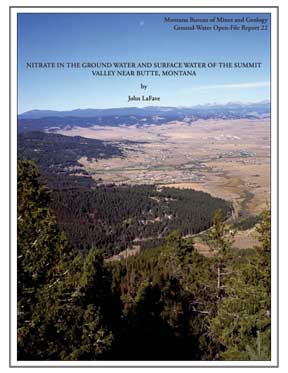 This report by Bureau reseacher John LaFave, describes the elevated levels of nitrate in ground water in the Summit Valley near Butte, and assesses the hydrogeologic factors and land uses that may contribute to nitrate contamination
$12.00
for a printed copy or download for free
---

B 134

Sapphires in the Butte-Deer Lodge area, Montana

For anyone who is enthusiastic about sapphires.

This stunning, full-color publication describes the sapphire deposits and occurrences in the area north and west of Butte. The identification, size, shape, color, and mineral inclusions of sapphires in the area are discussed, with photos throughout.

$30.00

---

Postcard version of our MC 19– "Butte, Montana, Richest Hill on Earth; 100 Years of Underground Mining" map.

Full color on glossy
stock, 8 by 6 inches





---

$1.00
Click here to order
---
SP 117

Probabilistic Earthquake Hazard Maps for the State of Montana

Because of the potential earthquake threat to dams in Montana, a set of probabilistic earthquake ground motion maps have been developed for the Montana Department of Natural Resources and Conservation (DNRC) Dam Safety Program.

The maps display ground motions for two site conditions: soft rock and the ground surface. In addition to the ground shaking maps, a set of 6 maps have been developed to aid DNRC
and practicing engineers in the analysis of site response and liquefaction potential. These maps display the modal earthquake magnitude and modal distance of the magnitude–distance distribution that contribute to the hazard at a specified location for the three return periods.


---
---
Our publication catalog is available as an online searchable database! For any other help you may need, contact our publication sales office at 406/496-4167 or at pubsales@mtech.edu.
---
Need a well log? Montana's largest source of water-well data, the GWIC database, is now online. Information about well construction, historic water-level measurements, inventory data, and water-quality information are just a few clicks away! Check it out!

---

The topo indices for the USGS 7½', 30' x 60', and 1° x 2° maps are completed and can help our customers find the topo maps they need. Of course, for any assistance you need for ordering, check with our publication office at pubsales@mtech.edu or call us at 406/496-4167!
---